|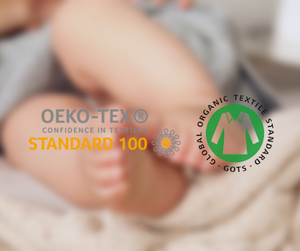 The subject of certifications might seem dull at first but bear with us here  this stuff truly matters! When our founder, Amanda, first started her journey to having a "toxic- free home," she had no idea what was in her linens. She was so focused on cleaning and beauty products that she was blind to something she was using literally every day: her towels, washcloths, and sheets.
"I learned about the importance of Oeko-Tex® and GOTS Certifications when I started TOWL and I was relieved to discover the certifications but a little freaked out by a few facts," she recalls.
Cotton represents 2.4% of agriculture but 25% of pesticide use

The textile industry uses upwards of 600 chemicals in manufacturing (but is not required to label them)

The most common chemical found in textiles is formaldehyde, a known carcinogen

Cotton accounts for 16% of global insecticide use
We'll get more into the chemicals used in textile in a later article, but for now, we want you to at least know how to stay safe using two important certifications: Oeko-Tex® and GOTS.
GOTS is More Than Just "Organic"
The Global Organic Textile Standard (GOTS) is the world's leading textile processing standard for organic fibers. It is accepted in all major markets and ensures the organic status of textile products. This certification covers every stage of production from the collection of raw materials through the entire manufacturing and distribution process — which must be environmentally and socially responsible. This standard provides consumers with a credible assurance that the product they are buying is not only organic, but also thoughtfully and sustainably produced.
Not all organic certifications are equal
In order to qualify, textiles must be made from at least 70% certified organic natural fibers. The final products may include, but are not limited to fiber products, yarns, fabrics, clothes and home textiles.
A textile product carrying the GOTS label grade "organic" must contain a minimum of 95% certified organic fibers whereas a product with the label grade "made with organic" must contain a minimum of 70% certified organic fibers. At all stages of processing, organic fiber products must be separated from conventional fiber products and be free of a whole spectrum of chemicals such as chlorine bleach and known toxic substances such as heavy metals and azo dyes.
In addition, manufacturers must have a credible environmental policy in place that covers such production factors as fair labor practices (including no child labor), water consumption, wastewater treatment and packaging that does not utilize PVC plastic.
The Oeko-Tex® Standard 100
This universal standard was first introduced at the beginning of the 1990s in response to rising demand for textiles which posed no risk to health. "Poison in textiles!" and other negative headlines were widespread at that time and indiscriminately branded all chemicals used in textile manufacturing as negative and dangerous to health.
The Oeko-Tex® Standard 100 was developed through the collaborative efforts of labs in Austria and Germany and is a globally uniform testing certification system for textile raw materials, intermediate, and end products at all stages of production. The tests for harmful substances include any substance that is prohibited or regulated by law such as carcinogenic dyestuffs, chemicals that are known to be harmful to health such as formaldehyde and heavy metals, substances which according to current knowledge are harmful to health but which are not yet regulated or prohibited by law, such as pesticides, allergy-inducing dyestuffs, or tin-organic compounds, and finally precautionary parameters that safeguard health, such as colorfastness or skin-friendly pH value.
Why Oeko-Tex is critical when shopping for linens
A tested textile product is awarded one of four Oeko-Tex® product classes based on its intended end use. The more intensively a product comes into contact with the skin and the more delicate the skin of the user, the stricter the human ecological requirements it must meet. Put briefly, Product Class 1 is the most stringent and certifies that the textile is safe for babies and children up to the age of three and includes underwear, and bedding. TOWL linens are an example of a textile that meets Oeko-Tex Class 1 certification. Product Class 2 covers textiles that — when used as intended — have a large part of their surface in direct contact with the skin. Product Class 3 covers textiles which — when used as intended — have little or no direct contact with the skin. Product Class 4 includes home furnishings for decorative purposes such as carpets or curtains.
We know it can get overwhelming when you realize how many toxins lurk in your home. We've been there, we're still learning too. However, knowing about basic certificates is a great start to making your home toxin-free! Check out our store to upgrade your towels, washcloths, and baby towels to organic bamboo towels from Wise TOWL.
Next >
The 5 most harmful toxins hiding in your home
choosing a selection results in a full page refresh
press the space key then arrow keys to make a selection