|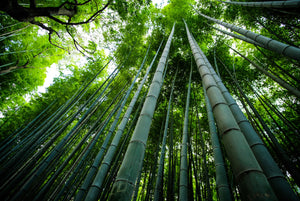 BAMBOO TOWELS: Protecting You and Planet the TOWL Way
We care for the planet, and we know that you do, too.  That's why TOWL is dedicated to providing you long-lasting, functional, eco-polite towels that will become your go-to sustainable alternative to towels made from high-carbon footprint synthetic materials.
We believe in showing due respect to nature, which is why zero-waste policy is at the core of TOWL's raw material sourcing and fabric production. 
You see, plastic and synthetic materials in many of the products today are killing our environment –more than we realized.
Worldwide, we consume an alarming 300 million tons of plastic each year –with only a mere 9% being reused/recycled. This means that 91% of plastic (or products with plastic in them) are used only once in a very short span of time and easily end up in landfills or oceans. This is an enormous waste problem that we can't just brush under the rug. With this amount of wastes churned out yearly by manufacturers and consumers, scientists predict that by 2050, there'll be more plastic in our ocean than fish. As for landfills, plastic wastes contaminate the food cycle as toxins in soil that find their way into plants will later be served on our plates.
HOW USING BAMBOO SAVES THE ENVIRONMENT 
The answer to this serious problem is making better choices. The simplest way that you and I can make a difference is by switching to sustainable products. As a company that's dedicated to protecting life on our planet, TOWL found the answer: BAMBOOS!
Organic bamboo is an eco-polite fiber derived from bamboo grass. Being a self-sustaining plant, bamboo is the fastest growing tree on Earth, which grows up to 1 meter per day. It takes three years for it to reach maturity and be ready for harvest. It has an expansive root network which is why it doesn't need replanting, and besides the entire plant is never harvested. Since it grows rapidly, is durable, and yields more than cotton, it's apparently a better source of fabric.  Pesticides, insecticides and fungicides are not required in growing bamboos as the plant is rarely infected by pathogens or eaten by insects. This is largely due to their natural antimicrobial properties.
In addition, bamboo forests enormously benefits the entire planet as they store carbon efficiently. In fact, bamboos are known as "carbon sinks" because other than absorbing two times more CO2 than trees, they  generate huge amounts of Oxygen –totaling up to 30% more than most plants. With their strong and vast roots, they make the ground more stable and free from landslides.
To top it all, bamboo needs less water to grow. The plant needs only one-third the amount of water for optimal growth compared to its counterpart –cotton (which is the conventional source of fiber). This means it's a self-sufficient crop needing no irrigation (which uses water more efficiently) to the benefit of farmers and local communities that depend on its cultivation. Bamboo is indeed an ideal sustainable alternative because of its naturally renewing properties.
HOW USING BAMBOO PROTECTS YOUR FAMILY'S HEALTH
After 5 years of careful research and development, it was an obvious decision for TOWL to produce and offer you only the best towel –one made from 100% bamboo fabric. 
As a brand that prides itself on mindfulness and sustainability, we help individuals and parents to cut down on their environmental impact one bath at a time. It's very important to us that our core values are reflected in every TOWL product we put out there. Each time you purchase bamboo TOWLS, the value you get includes: reduced overall waste, least possible carbon footprint, and lasting positive impact on family's health. 
Besides being the softest towel material on the market, here are some of the essential benefits of bamboo that you don't want to miss out on in your daily bath routine.
Hypo-allergenic. Bamboo towels are kind to baby's delicate skin and to those with sensitive skin. Bamboo plants have natural anti-bacterial properties and the way they're grown and manufactured means no chemicals were used which can cause skin irritation.

Super absorbent. Bamboo towels absorb up to 4 times water more than ordinary cotton towels do. They also dry quicker between uses or after the next wash. These amazing properties help you get dry faster and stay comfortable.

Immensely Durable. Other than being hypo-allergenic, breathable, and ultra-soft, bamboo fabrics are exceptionally durable. They don't lose their quality and shape after numerous washes, over time. What's more, they're piling- and wrinkle-resistant with no need for fabric softeners. They stay the same, and in fact become softer, with time.

Anti-bacterial & Odor resistant. Nasty smells in towels, clothes or any textile means there's bacteria infestation. But, because of

bamboo fabric

's natural anti-microbial bio-agent (called bamboo kun), you won't have this problem with bamboo towels. They continue to smell fresh in-between washes. 

Easy care.  Because of bamboos' anti-microbial property, bamboo towels stay fresh longer and requires less washing, which essentially adds to their durability. Care instructions are quite easy, too: a light cycle with cold water (without a need for strong detergents or fabric softener) is all you need. Bamboo towels are safer and greener because of their excellent moisture-wicking property, which means they dry fast (without a need for tumble drying).
So, what's not to love?
For the eco-conscious and mindful consumers, bamboo towels really is the answer. If you value comfort and quality, care about your health, and are concerned about the environment, bamboo TOWL is the best decision you can make today.
choosing a selection results in a full page refresh
press the space key then arrow keys to make a selection