|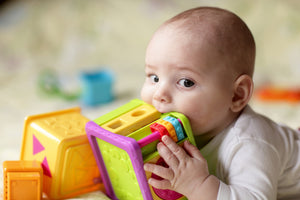 Did you know that indoor air has been proven to have higher concentrations of toxins than outdoor air? Or that most of the home wares we surround ourselves with contain harmful chemicals?
Here is a quick yet thorough guide to the main culprits, their dangers, and easy tips to protect the whole family.
1.   Volatile Organic Compounds
Commonly known as VOCs, these are harmful gases emitted by products such as hobby and craft supplies, cosmetics, cleaners, disinfectants, air fresheners, moth repellents, printers, paints and thinners, glues, cigarettes, upholstered furniture, and carpets — all of which are ubiquitous in our homes.
When we use these products, the VOCs evaporate, contaminating the air. This is possibly why VOCs are known to be found in concentrations 10 times higher indoors than outdoors. Because of the variety of chemicals present in VOCs, many long-term illnesses are linked to them. Paint, for instance, contains lead, which can harm a child's brain development. VOCs are also known to cause asthma, fertility problems, birth defects, neurological disorders and even cancer.
EASY TIP: OFF GAS NEW ITEMS BY AIRING THEM PRIOR TO FIRST USE
2.   Phthalates
These chemical compounds are used in the manufacturing of plastics such as vinyl flooring, shower curtains and toys. They are also present in personal care products like body sprays, scented candles and air fresheners. These chemicals can cause skin and eye irritation and respiratory problems, and are especially bad for asthmatics. Toddlers are particularly at risk from phthalates because they tend to put any items they get their hands on into their mouths — and most often those items are plastic toys or other plastic products.
EASY TIP: BUY TOYS LABELED PHTHALATES FREE
3.   Formaldehyde
This colorless, strong-smelling gas is used to help make fabrics such as bedding and towels crease-resistant and helps dyes and inks better penetrate textiles. This is particularly problematic for sheets and towels, because they are used when your skin is at its most vulnerable. Imagine stepping out of the shower — with your pores wide open — or finishing your baby's bath, and grabbing a towel full of chemicals. A simple daily ritual we take for granted can become a source of health issues, and most of us just don't know it. In fact many have never even considered it.
Formaldehyde is extremely harmful to humans and is suspected to cause cancer. Extended exposure to textiles that contain large amounts of formaldehyde can cause skin and eye irritation and respiratory problems. It can also cause allergic contact dermatitis — a condition that sees people break out in hives and rashes after using textiles such as bath towels that have been treated with formaldehyde resins.
EASY TIP: BUY ORGANIC AND OEKO-TEX TOWELS AND SHEETS
Click here to enter our contest to win a lifetime supply of chemical-free towels.
4.   Quaternary Ammonium Compounds
Popularly known as "quats", these chemical compounds are widely used as surface disinfectants and can be found in antibacterial household cleaners, wipes and fabric softener liquids. One study has also shown that prolonged exposure to quats may harm fertility.
EASY TIP: BUY GREEN CLEANING SUPPLIES AND NATURAL SOFTENING SHEETS
5.   Polytetrafluoroethylene
Polytetrafluoroethylene or PTFE is a non-stick coating most commonly used in Teflon. When heated to the point of smoking, or heated when they have flakes, cuts or scratches, TEFLON pans start emitting toxic gases.
EASY TIP: AVOID SCRATCHING YOUR NON- STICK PAN DURING CLEANING OR COOKING.
Don't forget to enter our contest to win a lifetime supply of chemical-free towels! Click here to learn more.
Next >
7 Stoic Exercises for Inner Peace
choosing a selection results in a full page refresh
press the space key then arrow keys to make a selection