|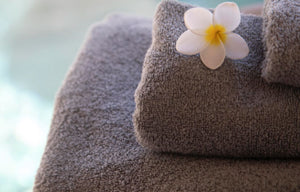 The use of bamboo fabric is growing globally as one of the most sought-after fabrics due to its key environmental and health benefits. With the coronavirus crisis posing a real threat, consumers have increasingly become health-aware and eco-conscious. Holistic health is becoming the underlying reason for many purchasing decisions of modern-day consumers –including when they go to a spa.
VERSATILE BAMBOO
Technically a grass, bamboo is considered a "green" material source. Since ancient times, it's been used in architecture, construction, agriculture and daily household activities. Today, the fashion industry is catching on: bamboo is a valued material as it has the desired qualities for designing luxury brands.
Interestingly, spa and hotel industries aren't far behind, either. As an important innovation in the textile sector, bamboo has recently been included in the production and development of products for the hotel industry. It's been considered in all kinds of textile items that are personalized for the operations of luxury spas where the guests are the most important asset. [1]
ANTIBACTERIAL
Bamboo is highly valued for its antibacterial properties, and this isn't just a marketing trick. Beyond the hype featuring the benefits of bamboo, the plant contains a natural antimicrobial compound called "kun". This bio-agent is what makes the plant resistant to pests that would otherwise harm its growth in its natural environment. Kun means there's no need to use any kind of pesticides/herbicides when cultivating bamboo –making it one of the reasons why bamboo grows at such rapid rates. It's among the rare plants that can survive all that nature can throw at it –whether pests, bugs, insects or extreme weather.
ANTI-FUNGAL
Bamboo kun is also an antifungal bio-agent which prevents fungi from infesting the fabric. This compound works to make bamboo textiles naturally odor resistant.
When bamboo tufts are processed into fiber, the antimicrobial and anti-fungal properties remain, fighting back against odor-causing agents and keeping the towels smelling as fresh as when they first arrived. These essential properties (anti-bacterial, anti-fungal, odor-resistant) prevent mold-and-mildew buildup in towels that are left hanging around often damp after use –something that pure cotton towels doesn't guarantee.
FACTS BEHIND THE CLAIMS
Apart from it being a great selling point, does the anti-bacterial claim hold water under close examination? Some studies prove that using alternative [mechanical] methods for fiber processing will preserve the bamboo's antibacterial and antifungal properties.
In contrast, conventional, mass-production of fabrics means wholesale use of toxic chemicals –even before the manufacturing stage begins. Pesticides are already sprayed into plants (e.g., cotton) and harmful chemicals applied in soil making these toxins an integral part of the textiles we buy.
The implication is very important for hotels/spas to consider: businesses (like TOWL) whose products are organically sourced and made in small batches are a great supplier of bamboo linens and towels. Small-size manufacturers that use alternative [mechanical, eco-friendly] methods, plus natural dyes, in towel production should be the preferred provider of today's wholesale towel supplies.
Bamboo towels are less likely to breed bacterial growth and fungi infestation because of its quick drying, fabric breathability, mildew-resistant and moisture-wicking abilities. With these super-qualities, bamboo towels are perfect for spas –giving customers a luxurious experience and constant comfort while ensuring their health.
(Download the spa card here)
*"The Antibacterial Performance of Natural Bamboo Fiber and Its Influencing Factors" -a study presented in the International Convention of Society of Wood Science and Technology in Beijing, China (August 2012)
*an independent lab doing tests on the antibacterial property of natural bamboo fabrics "bamboo fiber in clothing fabric| Process Description (Innovative Textile)" https://www.youtube.com/watch?v=8dq9FpSyFA8
-------------------------------------------
Content Credits
[1] https://resuinsa.com/en/bamboo-towels-the-lastest-trend-in-the-spa-and-wellness-sector/#:~:text=Hypoallergenic%3A%20Bamboo%20is%20hypoallergenic%20and,of%20the%20towels%20after%20washings.
https://allurebathfashions.co.uk/blogs/allure-blog/bamboo-towels-what-are-the-benefits
https://www.youtube.com/watch?v=rkSuzXlMJrY "bamboo fabric basic health benefits"
choosing a selection results in a full page refresh
press the space key then arrow keys to make a selection